F.E.A.T. - Chattanooga
NEWSLETTER

PO Box 23731
Chattanooga, TN 37422
(423) 296-0092
http://www.featchatt.org/
Volume I
Issue 10
November 1999
---
Upcoming Meetings

November 9, 1999 -
Guest Speaker:
Sharon Grantham,parent
Topic: Personal experience with special diets
for autistic children.

December 7, 1999 -
No Meeting Holiday Party on Dec. 10

January 11, 2000 -
Guest Speaker:
To Be Announced

---
Meeting Time and Place
Second Tuesday of Each Month
6:30 pm Room 140
Massoud Pediatric Building
T. C. Thompson
Children's Hospital
*Parking Directions
(see below)
---
(see our Group Information Page)
---
This Space Available
We need your information for the newsletter. Please fax, email or mail your submission to Phillip Deal prior to the 25th of each month.
Fax: 778-6837
Email: message@featchatt.org
Mail: PO Box 23731
Chatt, TN 37422
---
Welcome Packets
Welcome Packets are available at all meetings. If you have not received yours yet and are unable to attend the next meeting, please call our FEAT-Chattanooga phone number and leave your name and mailing address and we will send one to you.
---
Do You Have Ideas?

-Do you have any ideas for the newsletter?
-Would you like to see a column about a particular topic related to your child that interests you and you think may interest others?
-Do you like to share ideas and opinions with others?
-Do you just want to see your name in print?
If you answered yes to any of the above questions, then submit your articles/idea/cartoons/opinions to the FEAT-Chattanooga Newsletter in care of the address above. Or email your contribution to featchatt@aol.com. Deadline for submission is the 25th of each month give or take a day or two. :-)
---
WEB INFORMATION

The CARS (Childhood Autism Rating Scale) is now available on a website where you can do the assessment yourself.
http://www.patientcenters.com/autism/
news/diag_tools.html
---
Meeting Location and Parking-

A The Massoud Pediatric Building now locks electronically at 6:00 p.m. The gravel lot (number 3) where several people parked is now closed. You should now park in the Erlanger Parking Garage and enter
T.C. Thompson Children's Hospital from the parking garage. There is a $1 charge. Below are detailed directions.
Enter the Erlanger Parking Garage from the Central Ave entrance (across from the Ronald McDonald House)
Park in the Garage (preferably on Level One)
While you are in the parking garage, walk toward the elevator on the right.
Take the elevator to the 1st floor if you did not park on that level.
On Level One, you will see the entrance to T.C. Thompson across a walkway next to the elevator.
Walk down the long hallway after you enter the Hospital.
At the end of the hallway, turn right.
Go through the double doors. (Someone will be posted at these doors starting at 6:15 p.m. to let you in the building. These doors lock electronically at 6:00 p.m. We will ensure these doors are open until 6:45 p.m.)
At Dr. Massoud's picture, turn right.
At the elevators, go to your left through the double doors. Our meeting room is the second room on the right.
---
From the http://www.specialednews.com/ web site
LONDON-BASED WEB SITE BRINGS AUTISM CONFERENCE TO VISITORS

Traveling all the way to London in the middle of the school year for an international conference on autism may be too much for many, so the United Kingdom's National Autistic Society (http://www.oneworld.org/autism_uk/) is using the Internet to bring the proverbial mountain to Mohammed. Autism 99, (http://www.autismconnect.org/) the first-ever international disability conference to be held solely on the Internet, opens Nov. 2 for people around the world with Internet access. The event runs through Nov. 23 and is set up on the same model as a real-life conference, with lectures by education, health and other professionals, a planned exhibition hall and places for people to network with others in their region.

The organizers describe the conference as a "pioneering opportunity for world-wide communication and sharing of expertise." The conference will address the history, diagnosis and possible causes of autism and Asperger's syndrome and discuss current therapies and teaching methods. Online discussion forums and interviews with leaders in the field will be used to help conference attendees interact and learn more throughout the month. Special Education News will carry additional coverage of the conference as it continues over the next three weeks.

Dozens of papers are scheduled for presentation, with articles in 15 different categories scheduled for debut each day. The "Education" category includes at least 25 planned presentations, including an explanation of the Picture Exchange Communication System developed by Andrew Bondy, a former director of the Delaware Autistic Program, and Lori Frost, a speech pathologist.

Another category, called "In Our Own Words," offers various looks at the autistic experience, such as Julie Donnelly's "Speaking for Themselves: The Thoughts and Words of Individuals with Autism." Donnelly is an autism consultant, mediator and resource specialist in the Columbia, Mo., public school system. The "Psychological" section includes nine papers on clinical aspects of autism. For example, Jill Boucher's "A New Theory of Autism" explores the connection between autism-related impairments and a range of "different but related" temporal processing deficits. Boucher is a professor of developmental psychology in the United Kingdom.

The conference makes extensive use of Macromedia's Flash Player utility to create a more active on-screen appearance. The Flash Player program is preinstalled on many recent computers that use Microsoft Internet Explorer, but it can also be downloaded free from the Macromedia http://www.macromedia.com/ web site.
(*note--you can also access the papers through html or text based browser*)

Attendees also must register to enter the conference. The registration information is used to develop a profile of the people involved in the fields of autism study, education and treatment. On the eve of the conference opening, more than 10,000 people had registered, with nearly 60 percent from North and Central America. About 33 percent of attendees are from the United Kingdom and Europe. The group is primarily composed of parents, friends and relatives -- 44 percent of registered visitors - and people from the education and research fields -- 22 percent. The medical and social services professions are also represented, and 2 percent of registrants have either autism or Asperger's.

---
Autism Research Bill Update
From FEAT DAILY ONLINE NEWSLETTER http://www.feat.org/

CAN (Cure Autism Now) encourages families to send thank you notes to Renee Russo and Anthony Edwards for their efforts on behalf of the Autism Research bill. They can do this 2 ways. Elizabeth Emken will either forward emails to them at her address or through a box office in California. In either instance Elizabeth is the person who will forward the mail.

Anthony Edwards P.O. Box 2064 Danville, California 94526; Renee Russo P.O. Box 2064 Danville, California 94526
or email them cc4@earthlink.net

Excerpts from a Memo from CAN:

Unfortunately, it's my sad duty to report that our effort to attach the autism legislation as an amendment to the appropriations conference report has failed. This is the end of this year's effort.

BUT THIS IS NOT THE END OF THE STORY. …WHAT'S NEXT:

As a result of the testimony of Rene Russo and Anthony Edwards before the two authorizing committees on health matters, we are very confident that our provisions will be included in a broader children's health bill which will be taken up by the congress early in the new year.

Our bills will likely be the centerpiece of an omnibus Children's Health Bill. The good news is that we will achieve our goals, and in a very public, high publicity manner. Sliding our bills through appropriations would have made the provisions law, but in a very quiet way.

WE HAVE EVERY REASON TO BELIEVE WE WILL BE SUCCESSFUL IN THE SPRING!!!

For now, there is nothing to do until congress goes back into session on January 10th.

Thank you again, for your unbelievable response. Please rest assured, as seems to be the case with everything related to the fight against autism, our victory is merely postponed.
Thanks, EE * * *

---
**Please note that the November meeting will be held on the 5th floor of the Massoud Pediatric Building. Another group will be meeting in Room 140 this month. There will be signs posted to remind you of this change.
---
Target Christmas Tree Giveaway

The Target Store in Hixson will donate a Christmas Tree to benefit F.E.A.T.-Chattanooga again this year. The 7 1/2 foot Christmas tree will be decorated this weekend and be on display at the Northgate
location of Target. Next week, the Christmas Tree fund raising committee will send you a ticket page, an outline for this year's Christmas tree fund raising promotion, and hopefully a picture of the decorated Christmas Tree.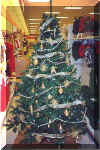 Each ticket will be a $5.00 donation
to F.E.A.T.- Chattanooga. The winner of the Christmas Tree, including all the decorations, will be selected on Monday, December 20th. Last year, we raised over $1,000 to support the work that we do to help families in our area and educate the community about autism. Please remember that fundraisers like this one allow FEAT-Chattanooga to provide information at no cost to families and for our members to not incur annual dues.
---

OUTBACK STEAKHOUSE

Believe it or not but plans are already underway for "Lunch in the Outback 2000". Last year's "Lunch in the Outback" raised over $2,500 for our organization. The luncheon is tentatively scheduled for April 2000, during National Autism Awareness Month.

A committee has formed and is creating a target sponsorship solicitation list and discussing ideas to make the luncheon fun and as successful as possible. The committee asks that each FEAT member think of potential sponsors for the event. The best target sponsors are probably individuals or business people that we know and/or work with. The sponsorship levels will remain at $100, $250, and $500. By creating a master sponsorship target list, our group will not solicit potential sponsors more than once. Please contact Susan Bollinger, Tammy Torres or Phillip Deal with your suggested sponsors. Make sure you provide the contact name, address and phone number. The committee plans to send out the first sponsorship proposals after Thanksgiving.

---
(From the http://www.feat.org/ website)
Purple: by Alexis Rotella

In first Grade Mrs. Lohr said my purple teepee wasn't realistic enough, that purple was no color for a tent, that purple was a color for people who died, that my drawing wasn't good enough to hang with the others. I walked back to my seat counting the swish swish swishes of my baggy corduroy trousers. With a black crayon nightfall came to my purple tent in the middle of an afternoon.

In second grade Mr. Barta said draw anything; he didn't care what. I left my paper blank and when he came around to my desk my heart beat like a tom tom. He touched my head with his big hand and in a soft voice said:
the snowfall,
how clean
and white
and beautiful.
---

FEAT Family Holiday Party

Please mark your calendars for December 10th. F.E.A.T. of Chattanooga will celebrate the holidays with a FEAT Family Holiday Get-Together. This gathering for the entire family will occur at Bayside Baptist Church on Highway 58 in Chattanooga from 6:30 pm until 8:30 pm. There will be pictures with Santa, holiday videos and music, craft gifts for the kids to make including ornaments for the tree and a personalized welcome mat. Bring your favorite holiday dessert or finger food and join in the fun. We need to know if you plan to attend so we can purchase the appropriate supplies for the event. Please RSVP by calling the FEAT phone number (423-296-0092) and let us know if you plan to attend.

---
Toys "R" Us Catalog

Just in time for the holidays, Toys "R" Us has released its seventh annual Toys "R" Us Toy Guide For Differently Abled Kids. Through its partnerships with the National Lekotek Center and the National Parent Network on Disabilities, Toys "R" Us developed and distributed this digest-sized catalog -- the ideal resource for parents, family members and friends who don't know what to get for a child with special needs. It features more than 60 popular toys and will be available on November 1st at Toys "R" Us stores or by calling 1-800-732-3298
(TDD/TTY calls 1-888-859-8011).

As the father of a child with autism, NFL Superstar Doug Flutie is featured on the cover of this year's guide with his son, Doug Flutie Jr. When the boy's condition was diagnosed in 1995, Flutie used half of his signing bonus from the Buffalo Bills to establish the Doug Flutie Jr. Foundation for Autism -- a foundation that generates funds for autism research and education and provides financial assistance to families raising children with autism. Flutie has become an advocate, not only for children faced with disabilities such as autism, but for their parents as well.

Because every differently-abled child is unique and has specific needs, each toy in the Toys "R" Us Toy Guide for Differently Abled Kids is evaluated and assigned a symbol that indicates what skill it helps enhance - auditory, language, visual, tactile, gross motor, social skills, self-esteem, creativity and thinking. Depending on a child's abilities, parents, grandparents and friends can select toys that will help encourage the specific skills for that child. For instance, the Tech-Link Aviator 500 Electronic Headsets featured in the guide enhance social, auditory and language skills. Children who have limited mobility will be able to join in on games of treasure hunt, airline pilot and other imaginative play. This toy promotes social interaction and gives children opportunities to have fun while developing speaking and listening skills.

The toys featured in the Toys "R" Us Toy Guide for Differently Abled Kids have been extensively evaluated and specifically chosen by the National Lekotek Center for promoting the development of children with physical and cognitive disabilities. The National Lekotek Center is an independent non-profit organization dedicated to making the world of play accessible to children with all types of disabilities so they can learn just like any other child. Each toy in the Guide has a strong play value and is chosen for its developmental and educational attributes.

"Toys play an important part in a child's development," says Michael Goldstein, CEO of
Toys "R" Us. "There are so many toys out there to choose from that it can be very intimidating for parents and friends of children with disabilities to choose a toy that is appropriate and enjoyable for that child. Toys `R' Us believes in the benefits children derive from toys, but we also have a strong commitment to the health and welfare of children. That's why we are so pleased to offer this guide every year as a free resource to anyone who needs it."

"Kids with disabilities love to play. They learn and build skills through play, just like other kids," says David Rubovits, Ph.D., Director of Applied Research and Evaluation of the National Lekotek Center. "With the Toys `R' Us Guide for Differently Abled Kids in the hands of parents, grandparents, aunts, uncles, caregivers, and others who care about kids with disabilities, we hope that children's access to appropriate toys will increase. The Toys `R' Us Differently Abled Guide can help bring the magic of play - and the learning that happens with play - to some very treasured children."

"As parents of an autistic son, we realize that having special toys for Dougie will help him develop both physically and mentally. This guide provides educational toys that have been specifically chosen for our son and other children with special needs," says Doug Flutie.

Each toy in the Toys "R" Us Toy Guide for Differently Abled Kids is available in Toys "R" Us stores nationwide, or through its mail order catalog. Once shoppers select the ideal toy, they may visit a Toys "R" Us store, place the order by mail, log on to http://www.toysrus.com/, or call 888-333-4108 to purchase the gift.

Previous covers of the Toys "R" Us Toy Guide for Differently Abled Kids featured celebrities such as actress Marlee Matlin; former Miss America, Heather Whitestone; and baseball player, Jim Abbott.

Toys "R" Us, the world's leading resource on kids, families and fun currently operates 1,522 stores; 706 toy stores in the United States, 445 international toy stores, including franchise stores, 206 Kids "R" Us children's clothing stores, 121 Babies "R" Us stores and 44 Imaginarium stores. The company also sells merchandise through the Internet at http://www.toysrus.com/, http://www.imaginarium.com/and mail order catalogs.

The National Lekotek Center of Evanston, IL is a non-profit organization with a national network of 50 affiliates that promote access to play for children with special needs, and access to supportive services for their families. For more information on toys, play and technology for children with disabilities, please contact the Lekotek Toy Resource Helpline at 1-800-366-PLAY or visit our website at http://www.lekotek.org/.
From FEAT DAILY ONLINE NEWSLETTER
hhttp://www.feat.org
Brain Cells Keep Growing and Growing
Sunday, October 17, 1999

[This discovery dispels a century-long belief common among scientists. The author warns "but don't look for any clinical applications soon. It has just opened the door to possible treatments."
By Edward Edelson of HealthSCOUT].

The part of the brain that controls thinking, memory and personality can grow new cells in adult life, scientists report, a finding that raises hopes that degenerative conditions such as Alzheimer's disease may some day be treatable. For many decades, neuroscientists believed the brain's cerebral cortex could not add new cells after childhood. But Drs. Elizabeth Gould and Charles G. Gross of the Princeton University psychology department report in today's issue of the journal Science that thousands of new cells are grown in the cerebral cortex of adult monkeys every day.

The discovery is almost certainly applicable to the human brain, says Ronald D. G. McKay, chief of the neuroscience laboratory at the National Institute of Neurological Diseases and Stroke. "It would be surprising if it wasn't," he says.

And while the discovery won't have immediate medical applications, "I'm sure many people will be working on them," McKay says. "It may take a few years, but treatment of degenerative conditions is not impossible."

The Princeton discovery becomes part of a changing view of the adult human brain. In his work, McKay has shown that new cells can be grown in the adult hippocampus, a section of the brain believed to play a part in memory formation.

Research by Dr. Frederick Nottebohm of Rockefeller University has shown that the canary brain can grow new cells as the birds learn songs. But until now, that finding was not believed to say anything about the human brain. It had been believed that human brain cell growth stopped at about age 3.

Cell location is key

The new finding "is another piece of evidence that new neurons are formed in the human brain, and in this case a very interesting place," says McKay. "The frontal cortex is important in determining what a human is."

The Gould-Gross work focused on the cerebral cortex, the largest and most advanced part of the brain. They injected BrdU, a chemical that is incorporated in DNA when a cell divides, into the brains of rhesus monkeys. They found BrdU in neurons of the cerebral cortex over the next few weeks, evidence that the cells were formed after the injection.

The new cells were generated in a zone just above the fluid-filled central chambers of the monkey brains. This region was recently identified as the home of the brain's stem cells, the cells that an organ uses to regenerate itself. The Princeton scientists then added another tracer to determine where the new cells went.

Those cells migrated to the cortex, where they sent out connections to other brain cells, the scientists say. The new neurons were found in areas where memories are stored: the prefrontal cortex, which controls decision-making and short-term memory; the inferior temporal region, which is involved in recognition of objects and faces, and the posterior parietal region, important for representing objects in space.

The work shows that "there are natural mechanisms in the brain that might someday be harnessed for therapeutic purposes to replenish damaged areas of the brain," Gould says. For now, she and Gross will continue their studies by blocking the formation of new cells in monkey brains to see if memory and learning are affected.